""Little by little, along the way, I discovered what I liked to do: making the link between science and society, bringing people from different countries to work together"


Florence Jacquet, INRAE, ANR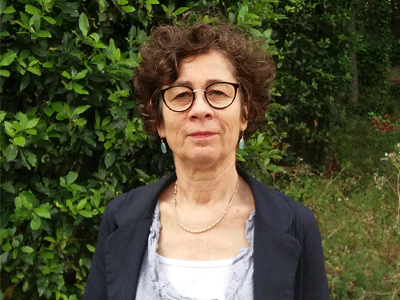 is a senior scientist in the Economics and Social sciences Department of Inrae. She is also Program Coordinator at the French National Research Agency. She has been involved in coordinating Agricultural Research funding activities around the Mediterranean Area (as coordinator of ARIMNet ERA-Nets and participant in PRIMA initiative emergence). She is currently involved in coordinating research programs aimed at supporting transdisciplinary research projects focused on the transition to a pesticide-free agriculture.
What professional career did you want to pursue? Did you envision doing the job you do today?
When I was young, I didn't anticipate the work I am doing today. After being trained in agronomy at the French National Agronomic school (INA PG) my first job, in 1978, was in a professional farmers' organization. I learned a lot in this first experience of dialogue between the farmers and the public authorities to build together the agricultural policy, as it was the case in France at that time. The opportunity of a PhD thesis finally gave me the chance to pursue an academic career. As a scientist in agricultural economics, my professional activities have evolved: research, teaching, support for public policies, and research funding. Little by little, along the way, I discovered what I liked to do: making the link between science and society, allowing science to be used to solve society's problems, teaching to various audiences and bringing people from different countries to work together.
I didn't have a strong interest in agriculture when I started my studies. It was almost by chance that I entered an agricultural school. And then I discovered the strategic role of agriculture in food production, the challenges of protecting the environment and natural resources. Gradually the economic analysis of changes in farmers' practices towards more sustainable and environmentally friendly agriculture became my research topic.
What is your professional background and what obstacles did you find?
When I was a student in agricultural school 40 years ago now, there were still few girls among the students. The school administration was a little worried about our careers, with benevolence but also a little worried about us taking over the positions intended for boys. This context and the ideas of the time built the feminist that I became.
I didn't feel a glass ceiling in my career until I was 50 years old. Like many women, I thought that I was capable of reconciling everything. I worked as a teacher-researcher in an international institution, the CIHEAM-IAMM from 1985 to 2005, traveling abroad in the countries of the Mediterranean region and bringing up my three children. I was also fortunate to have a very involved husband at home.
Later, I move in INRAE and ANR and took on more professional responsibilities in research management. I had to face two kinds of obstacles, those of society, which does not consider women as responsible as to men, but also my own, which I share with many women, to doubt one's skills, to not commit oneself without being completely sure of being able to do it!  In the end, I was lucky enough to have great opportunities to do exciting things in the positions I hold today.
​​Can you briefly give tips to young people in order to encourage them to undertake a career in research and teaching in the field of science and agriculture?
Agricultural research is an exciting scientific field where we can both explore new and unknown fields of science and have an impact on the future of our planet, particularly to face environmental challenges.
Choose your research topics according to your passion, your interest, and let yourself be guided by your intuition.
Be open to the diversity of approaches and disciplines, consider the need for interdisciplinary.
But not forget the importance of scientific rigour and listen to the advice of senior scientists!
Build as soon as possible an international network of colleagues with whom to exchange and work, because research is a collective adventure.
In a few words, can you provide suggestions on how to change gender culture within your institution/academia?
The feminization of the institutions is a change that should be pursued for the benefit of the whole society 
The heads of the institutions must be attentive to ensuring parity at all levels of responsibility, especially senior positions.
Young men and women must be encouraged to reconcile their private life, the care of young children, the education of the elderly, and their professional life. Women must be encouraged to take on responsibilities, but they must also be allowed to take on these responsibilities in their own way, by letting them express their potential to change the way things are done. One of the obstacles to women taking on responsibilities is that they are not sure they are capable of doing so, another is that they fear they will not be able to act efficiently.
Finally, I would say to women: take responsibilities, commit yourself, with your own feelings and views, the world, the planet and the future generations need your talents.