Happy International Day of Women and Girls in Science! Gender-SMART is joining forces with its sister projects CALIPER, SUPERA, LeTSGEPs, RESET, SPEAR, CASPER, ACT, GenPORT, MINDtheGEPs, ATHENA, GRANteD, GenderSTI, GearingRoles, Equal4Europe encouraging other women and especially young girls, to become engaged with Research & Innovation.
Are you a woman in science or a research institution? Join our #DreamItBeIt campaign on the 11-12 Feb and help inspire other women and young girls to pursue a career in #research & #innovation. Reply to this three questions and share your story with the world:
Your professional background
What did inspire you to pursue this career?
Who was your role model?
Attached you find a powerpoint template that you can download, fill out and share your inspirational stories. You are more than welcome to include photos of your/researchers in the poster/powerpoint.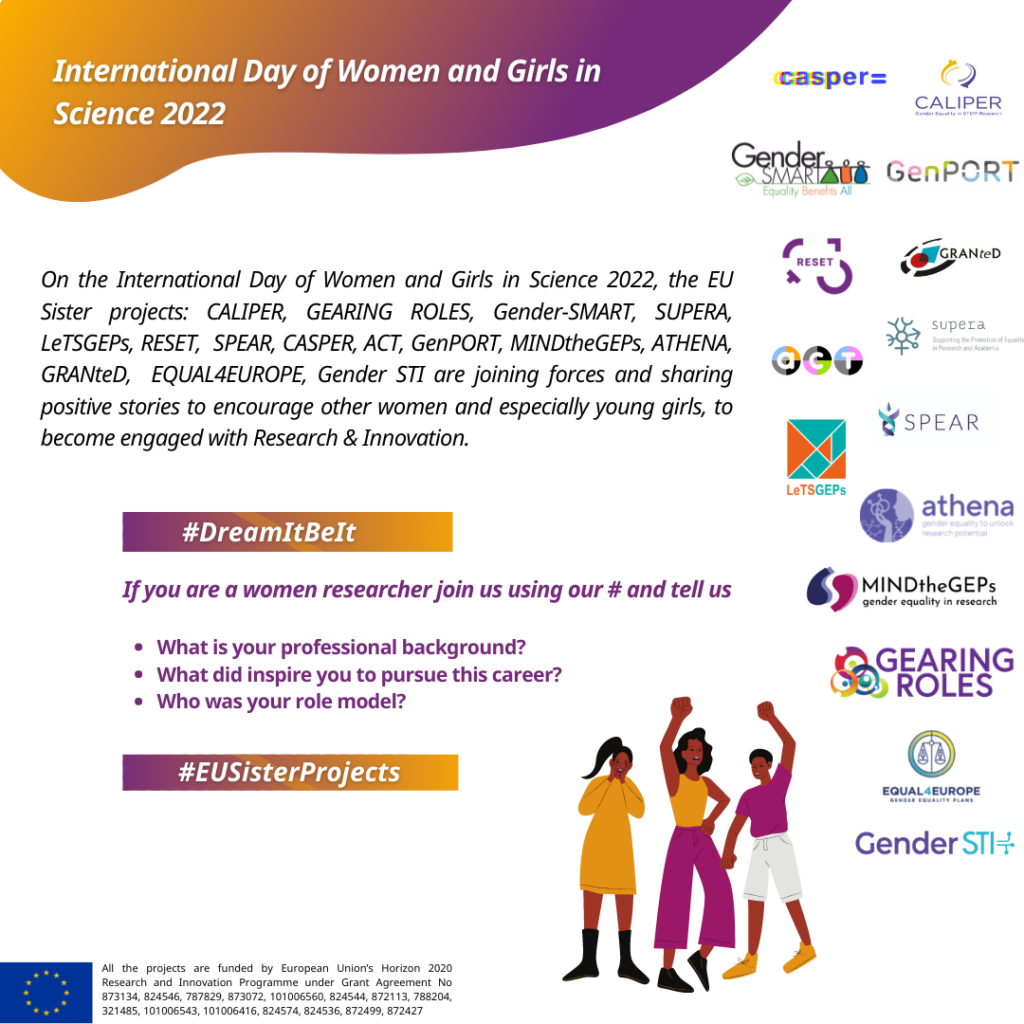 Gender-SMART activities
All our partner institutions will tweet sharing stories of their inspirational women in science. Stay tuned on Twitter to read the inspiring stories.
Gender-SMART in collaboration with the CUT-Radio at Cyprus University of Technology is organising a campaign in view of the International Day of Women and Girls in Science. A series of 16 interviews will be broadcasted on the 11th of February between 14:00 – 17:00 CET at CUT-Radio (https://www.cut.ac.cy/cut-radio/live/). Sixteen scientists become part of the global effort to inspire the participation of women and girls in science by sharing their career accomplishments!
The 16 women scientists are members of staff at the Gender-SMART partners' institutions.
Dr. Maria Antoniou, Assistant Professor, Department of Chemical Engineering, Cyprus University of Technology
Eleni Keliri, PhD Student, Department of Chemical Engineering, Cyprus University of Technology
Dr. Andrea Pavlou, Post-doc in Biophysical Chemistry, Department of Agricultural Sciences, Biotechnology and Food Science, Cyprus University of Technology
Dr. Melita Menelaou, Research Associate, Department of Chemical Engineering, Cyprus University of Technology
Dr. Ekaterini Lambrinou, Associate Professor – Dean of Health Sciences, Department of Nursing, Cyprus University of Technology.
Charlotte Oliver, PhD Student, Nutrition, Teagasc
Dr. Marianna Procopi, Research Associate, Department of Mechanical Engineering and Materials Science and Engineering, Cyprus University of Technology
Eman Abdo Mohamed Eldeeb, Researcher in Agriculture, CIHEAM
Wafee Jguirim, Researcher in Agriculture, CIHEAM
Carmen González, Director at CICYTEX
Dr. Olia Nisiforou, Research Associate, Department of Chemical Engineering, Cyprus University of Technology
Ioanna Neokleous, PhD Student, Department of Agricultural Sciences, Biotechnology and Food Science, Cyprus University of Technology
Dr. Kakia Petinou, Professor – Department Chair, Department of Rehabilitation Sciences, Cyprus University of Technology
Dr. Maria Isabelle Peyre, Epidemiologist, CIRAD
Dr. Vivian Assistant, Professor, Department of Plant Sciences in Farming Systems Ecology, Wageningen University & Research